The eve before "Is This Thing On?" and we couldn't be more excited. Some of the surprises we're working out for not only opening night, but opening week - are amazing. CAN NOT WAIT.
The Examiner just put up a cool story (with the final FunnyOrDie preview coming out tomorrow afternoon.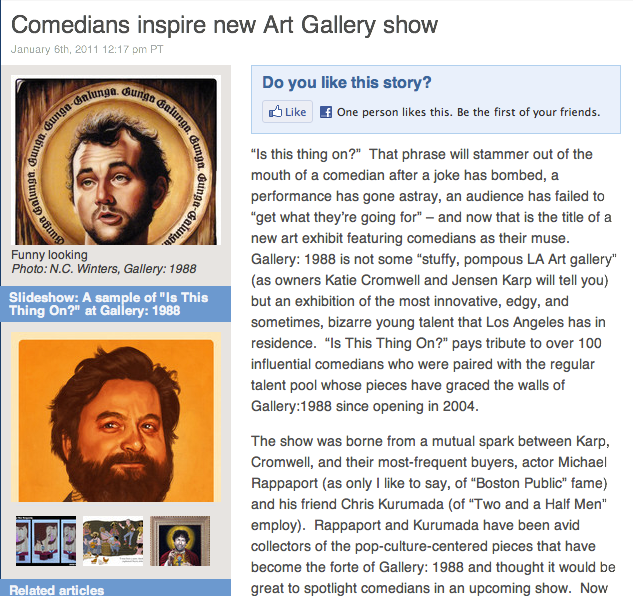 You can read that article by
CLICKING HERE.
And you may not know about my night hobby - but if you're into hip-hop, you'll dig it. It's a weekly podcast called Hypemen, where myself, and brothers Jeff and Eric Rosenthal from ItsTheReal.com, dissect obscure hip-hop and its history with a guest from the world of rap music or comedy. Past guests have included super producer Just Blaze, SNL cast member Bobby Moynihan, rapper Freddie Gibbs, former bassist of Fall Out Boy Pete Wentz and comedian Hannibal Burress. We've been doing it for about 6 months and you can listen to all our past episodes (updated every Wednesday) at
Hypemen.tumblr.com
or on iTunes. CRAZIEST part??? We were mentioned in Rolling Stones' top 10 Things To Watch in 2011 Comedy this week and had a feature in Village Voice!!
You can read that article by
CLICKING HERE.
Nice little gallery mention, so wanted to share. And if you like hip-hop and comedy - this podcast is for you. And hopefully, we can get a new listener!
In the meanwhile.....COME TO THE MELROSE GALLERY TOMORROW! 7-11 PM. I PROMISE YOU A FUN TIME and a lot of the people you find funny - just might be there. ;) That's emoticon for wink.
Jensen
G1988 (Melrose)