We're entering the final week of the Crazy 4 Cult 4 show, and I'm so sad to see it leave. Luckily for my looming separation anxiety, the next show is equally as incredible!
Gallery1988:Los Angeles is proud to announce "They Will Take It Back," a solo exhibit from artist Daniel Danger. This show, which will feature both originals and limited editions, will open August 5th, with an opening reception from 7-10 PM. Danger will be attendance.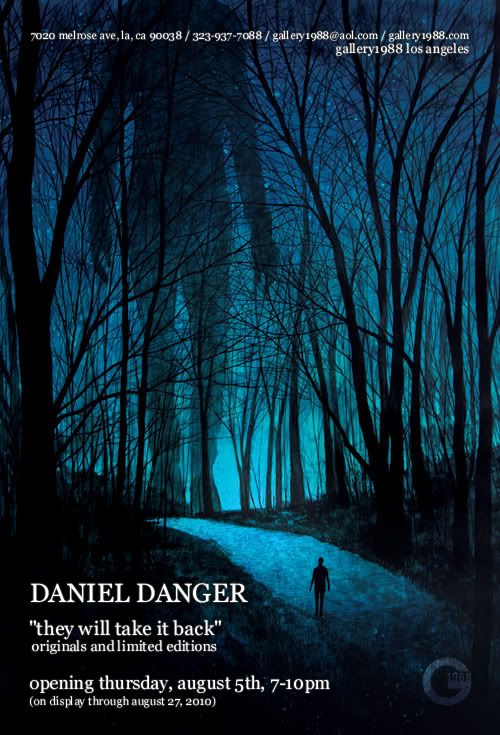 Daniel Danger has quickly become one of the most sought after artists in America. The rush to buy his screenprints on the day of their release online are almost like stories of graphic wartime, as they sell out in mere minutes every time. His concert and movie posters are legendary (and eBay staples), while his recent work designing limited edition prints with the ABC TV show "LOST" might just be his most sought after yet. This show will mark Massachusetts native first Los Angeles solo show, and in 2009 he participated in a 2-man show at our San Francisco location, alongside artist Dan McCarthy. Daniel is one of the most recognizable artists in his field and Gallery1988 is excited to see exactly what he's created for his first focused California exhibit.
And here's just a sneak peek at one of his new prints. A 6 color, 15 x 30 inch beauty -
This is going to a memorable show, even if you have to storm the beach of the Internet to buy one of the prints. It will be well worth your Purple Heart.
Jensen
G1988:LA