December 2009 / January 2010 is easily the most exciting 2 month span in Gallery1988 history. With SF opening Paper Pushers, 88point5 rolling out with 1988 fav Chris B. Murray and Los Angeles opening Vivisect Playset, The LOST Underground Art Show and our annual January Under The Influence show (more on that later in the week) -it's what many would call a busy time of the year. But December 2009 will also mark our first art show at the Clandestine Industries Landmark store in Chicago, Illinois. With Clandestine Industries owner Pete Wentz, Gallery1988 will be orchestrating and curating art shows every once in a while over in Chicago, hoping to bring some of our west coast flare out to the Midwest. And our first Clan Art Show will open December 19th, introducing Russian artist Lora Zombie, a promising name you'll be seeing a lot of at 1988 in the next few years.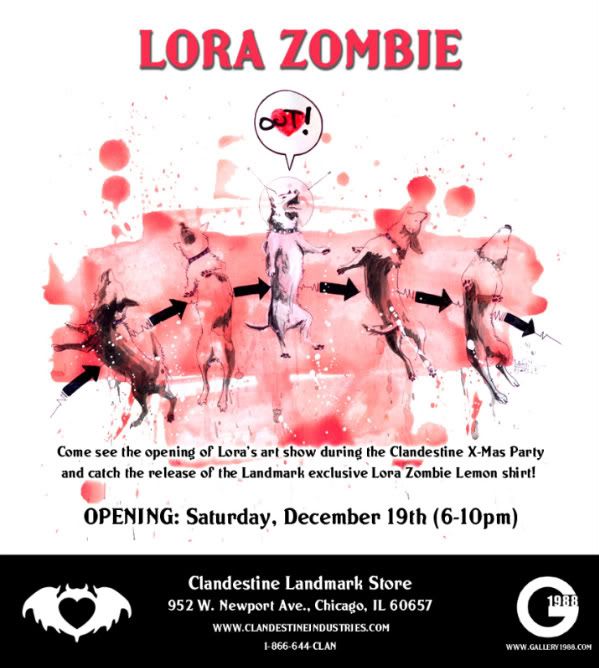 Lora, who's work was recently seen as the iTunes art for Fall Out Boy's new single "Alpha Dog," is an extremely talented young artist making her US debut at the Clandestine Landmark store. Already creating quite the buzz on the Internet, Zombie is ready to breakout - and now is the time to pick up her work while it's still affordable. Here are a few examples...
Lora's art show will be part of the Clandestine Holiday party, which will also mark the first time clothes from the "Death of Neon" collection (which includes a Lora Zombie designed shirt) will be available in the store. Exclusive Clandestine jewelry and a new Lora Zombie Landmark exclusive shirt will be first available during the event as well. And I'll be visiting!
Stay tuned to the blog, and our website, for previews and ways to pick up Lora's artwork - as we'll be selling the work through our normal avenues. And those in Chicago, we'd love to see on December 19th.
Jensen
G1988:LA