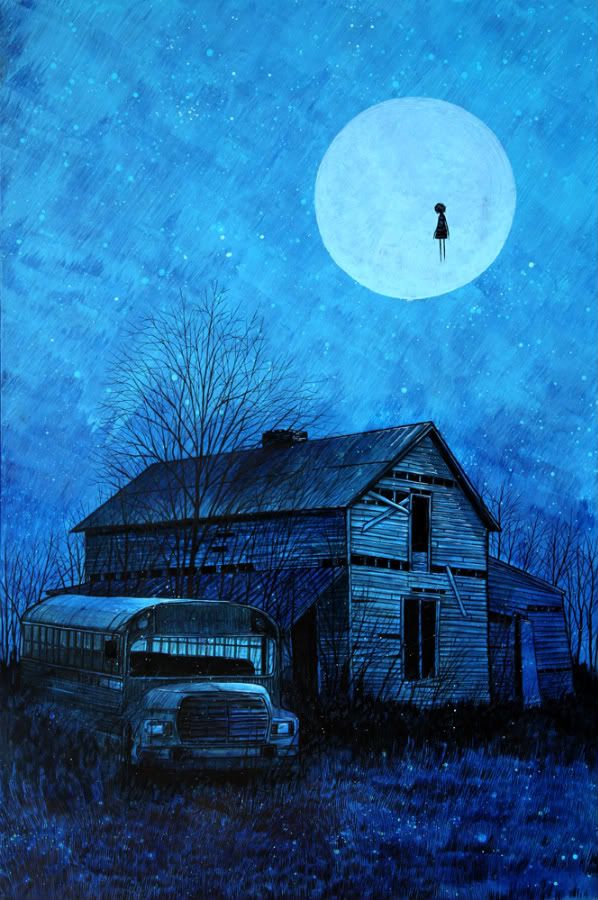 (Daniel Danger)
My life these past few days feels like a blur. We're talking non-stop, no rest for a week straight. It started when I flew down to LA for Idiot Box, which was so much fun! It was a GREAT show, so even though I had to wake up at 4am to fly back to SF the next morning, it was definitely worth going. Got back to SF on Friday and went straight to work on the Danger/McCarthy show, which opened last Saturday. This show is incredible. I have never heard so many people say this was their favorite show we've ever had. The opening went great, was a little hectic when we first opened the doors because a lot of people wanted to grab the new Danger prints that were released. But the real chaos didn't start until Sunday morning when I work up thinking, hooray it's the weekend!, but then reality set in when I looked at our inbox to find hundreds of inquires about the Danger and McCarthy prints from the new show. Ok, so this is a good "problem" to have, that so many people love these two artists, but it was a little overwhelming at first, I must admit. But in the end, hooray for a successful show and congratulations to Dan McCarthy and Daniel Danger because they worked their butts off for this show.
The show was picked up by Flavorpill, Hi-Fructose and Arrested Motion, which is so awesome! You can check out the articles, which also feature pics of the artists and interviews...
Hi-Fructose:
http://hifructose.com/index.php?option=com_content&task=view&id=333
Arrested Motion:
http://arrestedmotion.com/2009/04/openings-daniel-danger-dan-mccarthy-gallery-1988-sf/#more-17056
Flavorpill:
http://flavorpill.com/sanfrancisco/events/2009/4/4/the-watcher-in-the-woods
A huge thank you to everyone who supported the show and spread the word!!
If you're interested in seeing all of the work, please visit the show blog here...
http://1988watcher.blogspot.com
. The show will be up until April 25th, so definitely check it out in person if you can.
AND THEN.....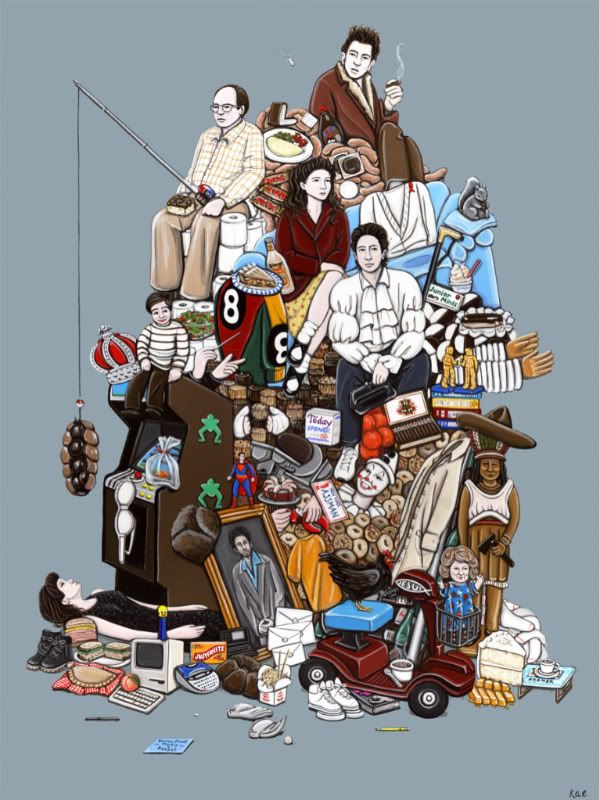 (Kiersten Essenpries)
We have exciting news about the Seinfeldology contest. Yes, that's right! We have a winner....
Nistasha Perez from Chicago got every single answer correct from the reference key!! So, Nistasha's big prize for winning is an artist proof of Luke Chueh's "Disintegration" prints.
And coming in a very close second was G1988 friend and long time supporter, Cory Sontag! Cory got 98 of the 99 Seinfeld references correct! Thank you to everyone who participated in the contest. We will be releasing prints of Kiersten's piece in the near future, so stayed tuned!