Our plan with the upcoming Garbage Pail Kids tribute at G1988 (Melrose) on September 2nd is to keep as many of the pieces hidden until we open the doors. We kinda just want people to be blown away and surprised at how creative our artists have gone with this show (especially those who think Garbage Pail Kids aren't that important...CAUSE THEY ARE!). We want the experience to actually speak for itself, rather than have everyone see the completed before it even opens.
But we've been getting so many emails with people hoping to catch a glimpse and figure out what the show is all about, we have to change up the plan a little. So we're going to show a few before the opening reception in 2 weeks, and today, you'll see the first...
Iron Jaiden (Jay Shaw) gives his incredible take on Garbage Pail Kids, with a gallery art show twist!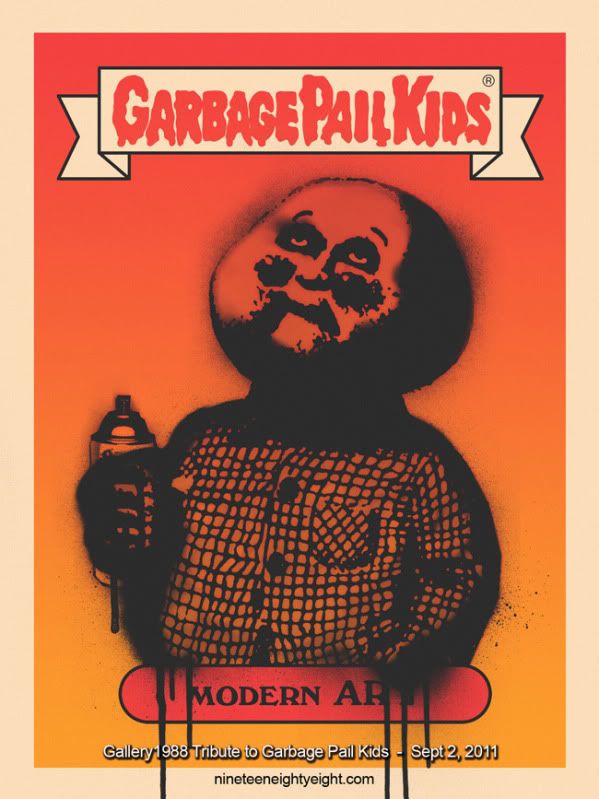 This is going to be one amazing art show.
And don't forget about the Garbage Pail Kids movie screening the next night on September 3rd at the Silent Movie Theater (Cinefamily) on Fairfax at 10 PM. We're excited to have the movie's stars Mackenzie Austin and Arturo Gil in perform for a Q & A. Buy your tickets now by clicking the picture above. We'll be there too, with some art from the show for sale as well!
Jensen
G1988 (Melrose)