With only a dozen of the "Don't Worry" print available in the entire Olly Moss show (get one of the last ones by
CLICKING HERE
), we don't have a whole lot to do except get excited, and ready, for our upcoming shows. The end of May/beginning of June is going to be a VERY busy time at both locations, and it's time to make the announcements.
First up, we're proud to announce "Baggage & Freedom," a solo exhibit from D. Ross, better known as "Scribe." We've been excited about this one for quite some time, and you can see more of his work at his website by
CLICKING HERE.
He's well known for his paintings, custom toys and sculptures, and has become one of the most sought after vinyl toy artists in the past few years. Scribe will be in Los Angeles for the reception and doing some pretty cool limited time installations in the gallery, so make sure you come to the opening on Thursday, May 26th from 7-10 PM at G1988: Melrose.
And next, with our friends at Treehouse Brand Stores, we follow the lead of the E3 convention that will be in town, and celebrate American McGee's Alice video game series, a groundbreaking group of video games that puts art in the forefront of your console. With the release of his newest game, American McGee's Alice: Madness Returns, we'll be celebrating at G1988: Melrose with an art show and party you won't want to miss. We're especially stoked to have American on hand for this! You can learn more about the game by
CLICKING HERE.
With artwork, inspired by the video game series, from G1988 regulars like NC Winters, Chet Zar, Ruel Pascual and Luke Chueh, G1988 newcomers like Alex CF, Cate Rangel and Adam S. Doyle. In addition to that work, we'll have VERY limited edition screenprints inspired by the game from Rhys Cooper, Kevin Tong, Ken Taylor, James Flames, Phantom City Creative and Angryblue. Also, making his G1988 debut, clothing designer Dr. Romanelli will unveil his creation for the game and American McGee, which I can't wait to see. AND if that wasn't enough, we'll have artwork actual Alice game designers, which will include sketches and notes from the game's creation, girls in Alice costumes serving drinks and celebrity DJs. There's a special E3 private reception on Wednesday, June 8th and a public reception on June 9th, both from 7-10 PM. You'll hang out at this one if you know what's good for you.
When we opened the gallery 7 years ago, in the back of mind I always knew what my dream show would be. But it was so random, so obscure, I never thought it could see the light of day. Here's the light...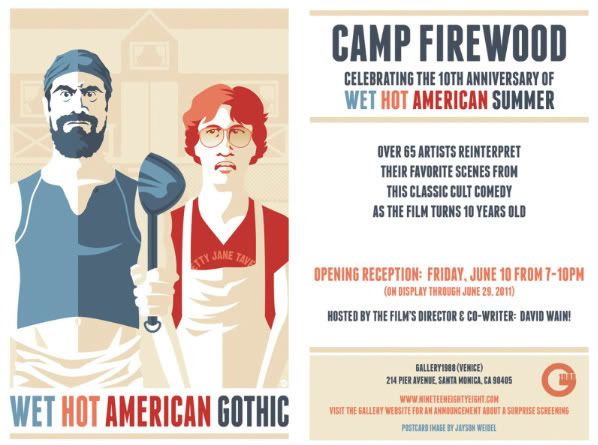 Gallery1988: Venice will open "Camp Firewood: Celebrating the 10th Anniversary of Wet Hot American Summer," with 60 artists paying tribute to the classic cult comedy. If you've never seen Wet Hot American Summer, you are seriously missing out. Since it's release in 2001, it's paicked up quite an audience, and the stars of the movie have picked up some extremely successful careers (Paul Rudd, Bradley Cooper, Elizabeth Banks, Jimmy Fallon head writer AD Miles, Amy Poehler, Joe Lo Truglio, Judah Friedlander). Created by the brains behind the MTV sketch show "The State," this movie is an absurd spoof of the 1980's sleepover camp (Meatballs-esque) comedy. You can check out the trailer by
CLICKING HERE.
And we're insanely privileged to have the movie's director and co-writer, David Wain, to host the art show! DREAMS DO COME TRUE. AND, we'll be producing a screening, along with the Q&A podcast with Jeff Goldsmith, but we'll have more details on that later. If you haven't seen the movie, it was currently added to Netflix streaming, so you have no excise now. (p.s. it's NSFW). Then come celebrate the movie's anniversary with us at G1988: Venice on June 10th, from 7-10 PM.
And more about this soon...
Jensen
G1988 (Melrose)