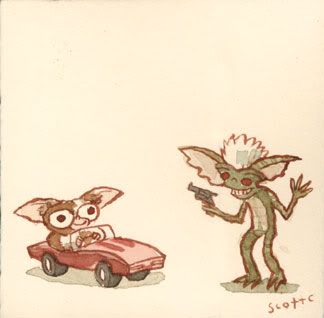 Steadily approaching, Scott Campbell's "The Great Showdowns," will open THIS Friday, Feb. 4th with an opening reception from 7-10 PM at G1988 (Melrose). By now you know that Scott will be in attendance and that over 200 new Showdowns will be available and on display. These things you know.
BUT, we're also going to have an opening night contest that can not be missed. A few dozen of the Showdowns will not have their cinematic inspiration listed, so you'll be in the dark about what film has influenced the piece. The gallery-goer who can name the most films correctly by the end of the party will get a FREE Showdown of a movie of their choice! Just tell Scott what movie you want to see, and you'll get your own painting! Just like that. GOOD LUCK.
And that's not all for the opening night reception. Act now and we'll throw in the release of the newest Showdown print set and the Great Showdown Coaster set release. That's right, DRINK COASTERS! These are so cool and they have to be seen to be believed. They are also very limited, so keep that in mind.
THIS FRIDAY at Melrose, join us why don't you.
Jensen
G1988 (Melrose)