What an amazing, fun time we had last night! Thanks to everyone who came out to Scott C's Great Showdowns opening reception. It was packed, in the perfect "we can still see the art" sense, and Scott was signing posters/coasters/babies/cats/etc. And so many people participated in the film naming contest. We'll have the answers and winner announced here on the blog later today.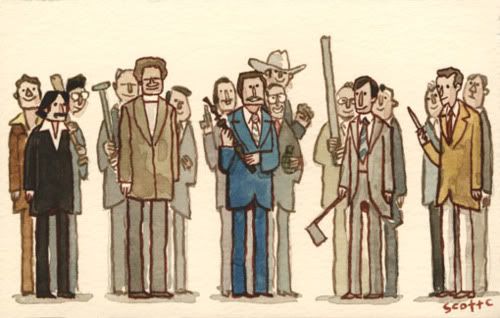 The response to the Showdowns has been incredible. So many have found great homes and there are still some amazing Showdowns left.
You can see all the painted Showdowns, and purchase directly from our website, by
CLICKING HERE.
And you can see, and purchase, the newest Showdowns giclee print set (#6) and the Coaster Set, by
CLICKING HERE.
THANKS to Scott C. most importantly. That dude created 200 Showdowns over the past year and we were honored to have displayed them. And here's the GOOD NEWS - we're doing it again in 2012.
Jensen
G1988 (Melrose)