UPDATE:
You can now purchase items from Saturday night's Fighter event....
Check it out by CLICKING HERE.
Jensen
G1988 (Melrose)
Saturday night, the upcoming Paramount Picture release "The Fighter" was screened for a completely packed house of over 700 people at the nearby Regency Theater, all in partnership with Gallery1988. And after the film, the afterparty was held at &Still, sportswear boutique on La Brea. The whole evening was incredible, as art inspired by the life of boxer Mikey Ward (the subject of "The Fighter" was on display for everyone to see. Work from Greg Simkins, DabsMyla, Brandi Milne, Peek-A-Boo, Silent Giants, Billy Perkins, Alan Hynes, Adam Hanson and Darren LeGallo was on display. While t-shirts by No Mas, &Still and Munk One were also available. Director David O. Russell and actress Amy Adams hung out, and thanks to Red Bull, Asahi Beer and Waialua Soda for the bar! Work from the afterparty will be available on our website,
gallery1988.com
, later tonight. Considering the $15 t-shirts and $10 prints are being sold for less than they cost to make, we suggest jumping on something that might catch your eye.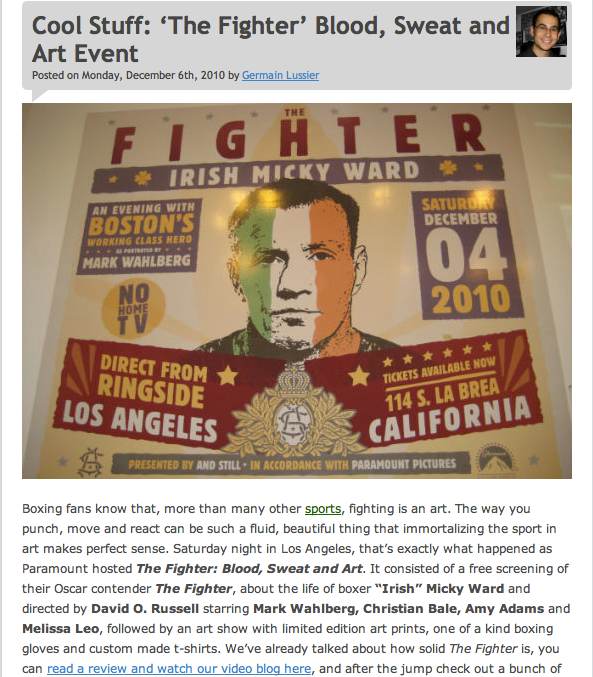 CLICK HERE
to read Slashfilm's report on the evening.
We have some other screening art events down the pipeline, and are always open to more, so stay tuned to our blog for more info.
Jensen
G1988 (Melrose)